Historic Valley Forge
Spy System 1777
At the beginning of the Revolution, American patriots had limited success spying on their British adversaries. The Americans had little practice in such secrecy, a craft already much refined in Europe. Witness Nathan Hale's brave but foolhardy attempt to spy on the British in New York City in 1776, an amateur endeavor that virtually assured his capture and death. Hale was a great patriot, but an incompetent spy, and his chief contributions to the American cause were his (alleged) inspirational dying words, "I regret that I have but one life to give for my country"
By the time of the Pennsylvania Campaign of 1777, American spies had acquired far more finesse in their risky business. Perhaps Hale's well-publicized death had acted as a serious warning. With the British capture of Philadelphia on September 26, 1777, and with the Continental Army opposing the invaders declining in numbers, equipment and health, General Washington needed immediate, first-hand intelligence of the enemy's intentions, movements and condition. To supervise this vital work he sought a man of intelligence and discretion, familiar with the local populace and territory, who could reliably provide vital information. The General's choice fell on Major John Clark Jr. of Pennsylvania, Aide-de-Camp to Major General Nathanael Greene, possibly at the recommendation of General Greene. Clark, the Commander-in-Chief was advised, was uniquely qualified to undertake this perilous business. Clark reportedly readily volunteered for the dangerous assignment.
Clark, born in Lancaster, had studied law and been admitted to practice in York County, where he made his adult home. As early as the summer of 1775 he had joined a Pennsylvania Rifle Corps, accompanying it to the siege of Boston. On March 15, 1776 he was commissioned 1st Lieutenant in Colonel Samuel Miles' Pennsylvania Rifle Regiment. Happily, he was not with that regiment when it was captured at Fort Washington, New York, in November; having been appointed Major in Colonel Richard McAllister's Battalion of Pennsylvania Militia. Briefly furloughed from service, he took the occasion to return to York and marry a daughter of Captain Christian Bettinger of the State Militia. On January 14, 1777 he rejoined the regular Continental Army as Major and Aide-de-Camp to Major General Greene, an official office he retained while acting as spy-master for the army.
Clark's information was not always 100% accurate, but the correspondence between Washington and Clark reveals the exceeding dangers experienced by Clark and his network of spies as they attempted to supply the Commander-in-Chief with the best advice possible. Extracts taken from this correspondence, mostly from the frequent letters of Clark to Washington during the latter part of 1777, illustrate the excellence of the corps of spies enlisted by Clark, and the sharp perception and determined perseverence of Clark himself as he tirelessly rode, despite declining health, around the perimeters of enemy camps, reporting his and his subordinates' observations, as well as hearsay and rumors, back to his chief.
Clark's first communications to Washington commenced not near Philadelphia, but some thirty miles to the west of the city, from the Red Lion Tavern (now Lionville) in Uwchlan Township, Chester County on October 6. These communications, at 5 P.M. and 10 P.M., were directed to Washington at his camp at Pawling's Mill, and were principally concerned with reports on the recent (October 4) Battle of Germantown, bringing welcome news of British defeats and setbacks. The first letter confirmed the death of British Brigadier James Agnew as the result of wounds received in the late battle, noting that one or two other generals were mortally wounded in the battle. The letter also noted the heavy casualties suffered by the British, and informed Washington of the deployment of enemy forces:
. . . it was the current report in the City, that the Rebels had used the British Troops barbarously-several Quakers from the City say that upwards of two hundred Waggons came in before they left it, with wounded Soldiers-A few Days ago a number of Waggons went towards Chester, 'tis thought for Provisions-whether the Troops that crossed Yesterday went to escort them-or to establish a Post at Derby or Chester, to secure their retreat, I submit to your Wisdom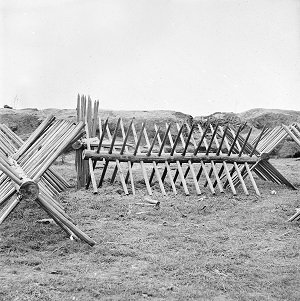 Just a few hours later, Clark sent another letter, reporting the fall of the American fort at Billingsport, on the New Jersey side of the Delaware River south of Philadelphia. Clark notes that the British were trasporting their heavy cannons, successfully bypassing the cheveaux de frieze which the Americans had sunk in the river to prevent British ships access to Philadelphia. Clark goes on to report:
Provisions are scarce with them-Gen. Howe has ordered the Inhabitants to patrole every Night through the City-Mr Chews House shot to pieces-my friend says hes never saw such shocking sights-all the Troops were in action except a few Guards-he ads if the Troops had arrived at the middle Ferry earlier 'twou'd have prevented the Enemy's reinforcement from the City joining the main body People go & come as usual into the City from this County – If a few Troops were sent down the Schuylkill it wou'd prevent — I am further informed the number of prisoners taken amounts to about 400 – the Enemy's Waggons are constantly going towards Chester.
Some of Clark's next correspondence with the Commander-in-Chief is lost to history. On October 23rd, Washington's secretary, Robert Hanson Harrison, wrote to Clark:
"He [General Washington] thanks you much for your vigilance & exertions & wishes you to continue 'em for obtaining such information as may be material respecting the Enemy. For this purpose & the Expences attending Expresses, he sends you One Hundred Dollars which you will find inclosed.
Evidently Clark had reported a rumored imminent British abandonment of Philadelphia. Harrison conveyed Washington's skepticism of this optimistic report:
He is not so sanguine, as you are, about the Enemy's intentions to retreat. Before they do it, it is likely, they must be intirely convinced of carrying Fort Mifflin and that of Red Bank.
---